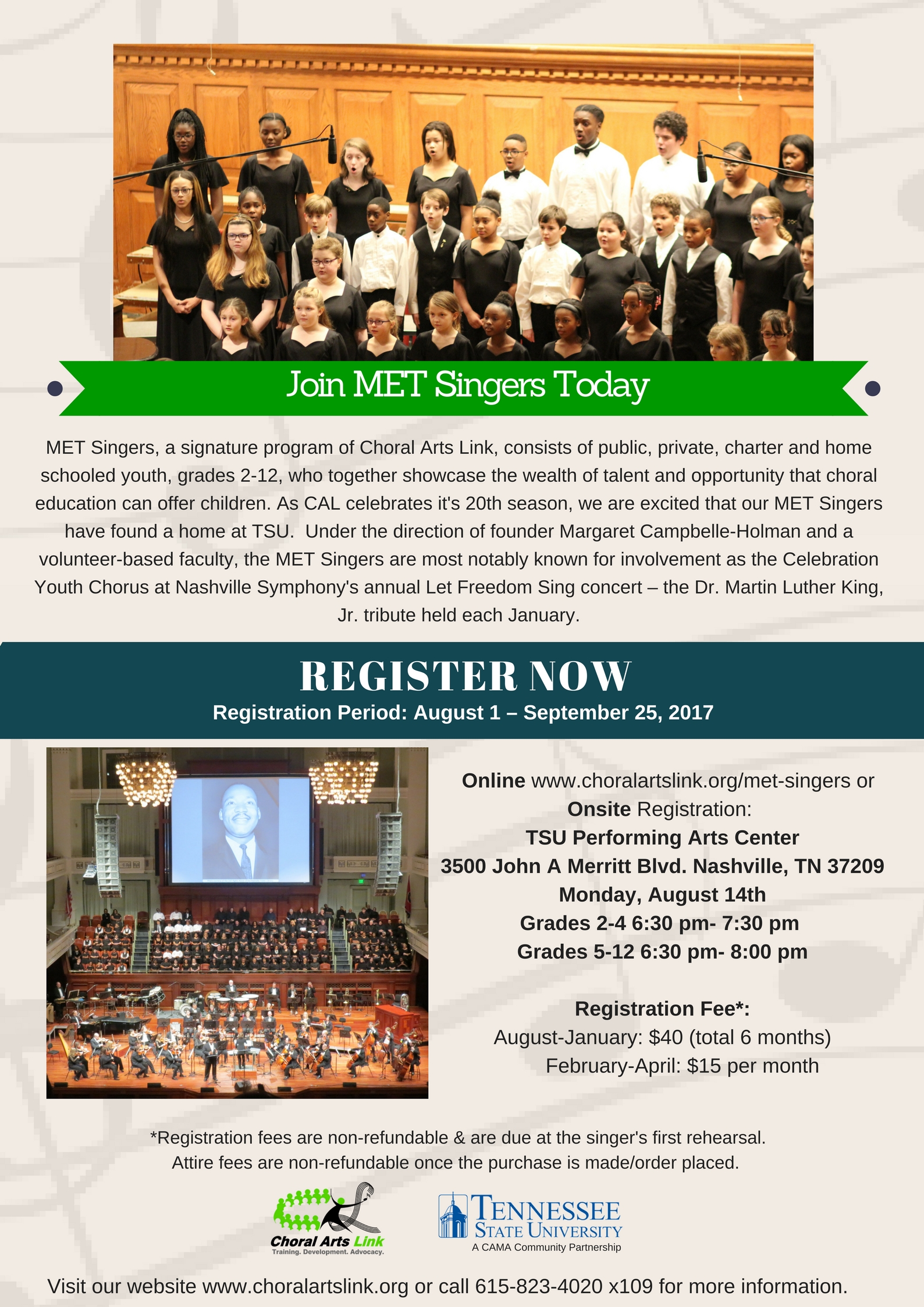 Middle Tennessee youth, grades 2-12,  who want to join MET Singers this season will be required to complete and submit a 2017-2018 MET season registration packet, registration fee and MET Singer attire fee no later than Sept. 25, 2017.  Registration packets may be completed and submitted online or onsite (see below for instructions).  MET Singers is broken into two groups, MET Singers for grades 4-12 and Mini MET for grades 2 & 3.
REGISTRATION PACKETS:
Please fill out a 2017-2018 MET Singer Registration Packet online HERE.
If you would like to print and submit your singer's packet onsite, please download the registration packet below.
PAYMENTS:
One payment may be made for multiple siblings, but fill out a separate registration form for each child. NO additional reductions in fees for multiple siblings. The performance attire fee includes t-shirt and formal performance attire costs. Please see a breakdown of fees below:
ONLINE PAYMENTS:
Can be made now via Square which we have provided for you at the bottom of this page. Payments will be accepted online through Sept. 28.
ONSITE PAYMENTS:
Basic and Registration Relief onsite payments are accepted no later than Sept. 28. ONLY cash, money orders, and credit card payments will be accepted. *We will only take money orders from Walmart, Kroger or Western Union. No checks will be accepted onsite.
REGISTRATION RELIEF PAYMENTS:
After we receive your information, we will contact you. When you have received confirmation that you are eligible for reduced camp fees, you will then be able to make payments online or onsite.
For paperwork submission instructions, please refer to the Registration Relief section of the MET Singers registration packet.
Registration fees:
Grades 2-12  

$40 (August-July)
Grades 2-12  

$15 per month (February-April)
Performance Attire fee:
$150
REHEARSAL SCHEDULE:
MET Singers will meet every Monday from 6:30-8:00 pm at the Performing Arts Center on the campus of Tennessee State University | 3500 John A. Merritt Blvd. Nashville, TN 371209 |
Questions? Please contact our registration team.
Peggy Drew pgarrisond@yahoo.com | Cynthia Mahaffey mahaffeyfam@aol.com | Jeanne Kennedy jcampken@gmail.com